Since 2011, INTER[action] has been hosted as a marquee event, curated to bring together colleagues and supplier partners within the meetings and events industry. This event is pivotal to drive growth across American Express Meetings & Events and our supplier partners while fostering industry collaboration.
To accommodate the current environment, the American Express Meetings & Events Global Strategic Events team created a multi-city virtual and hybrid event for fully vaccinated attendees in Atlantic City, New Jersey, and Seville, Spain. This also included a virtual experience for attendees across the globe who could not join in person.
Working with key executive stakeholders, the event program managers developed a full three-day ambitious agenda with various event components and formats. The event brought together 875+ employee and supplier attendees from 24 countries for meetings, education, networking, and celebrations.
The theme, #StrongerTogether, was engrained throughout the event. Over the past two years, our industry has proven that together we are resilient. As we continue to unite and rebuild, it was essential that we came together to foster existing and build new relationships both with our colleagues as well as suppliers. INTER[action] was a catalyst to achieve this and was crucial to deepen the American Express Meetings & Events teams' knowledge on industry trends and supplier offerings to deliver even more value to our customers.
The fact that the global American Express Meetings & Events team were all together celebrating the 10th year anniversary of INTER[action] was a spectacular undertaking and a testament to the team's creativity and dedication. "INTER[action] has been one of the most complex hybrid events planned in the industry to date, with essentially three simultaneous events happening together," according to Jennifer Nelson, Senior Director, Business Development and Global Strategic Events, American Express Meetings & Events. With the extensive production aside, it incorporated robust health and safety measures in line with government guidelines. With on-site medical teams and testing available, the event was executed in a safe, responsible, and sustainable way.
Watch this video to get a flavor of INTER[action] 2021.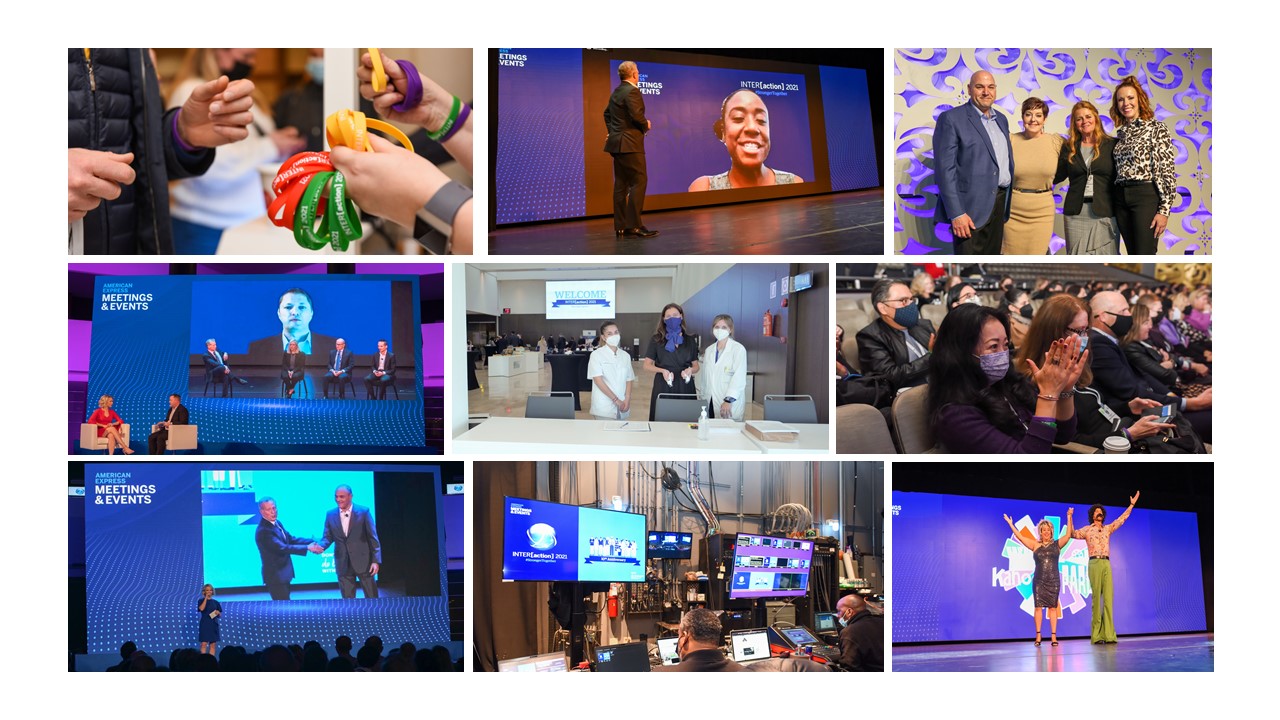 Program Scope 
Event theme and visual identity creation
Sales, marketing, and event communications
Meeting program design/experience, scope, and plan
Attendee management
Venue sourcing and contracting
Content development
Speaker management
Attendee engagement
Technology assessment, procurement, and production
On-site management
Sustainability assessment
Event Components 
General sessions sharing industry insights, business strategy and updates, inclusive of executive and senior leadership, keynote speaker, master of ceremony, client and supplier panel discussions, and supplier sponsorships
Awards and recognition celebrations
Education program
Extensive supplier showcase
One-to-one appointments
Supplier brand presentations
Dining experiences
Evening networking lounges
Corporate social responsibility activity (charity raffle)
Entertainment
Talent contest
Technology: event website and registration, mobile app, appointment scheduling platform, virtual event platform, virtual supplier showcase
Pre-recorded and live content both virtually and in person
Live broadcasting between locations
On-site medical teams with COVID-safe measures and testing conducted
Virtual-only engagement: supplier focus groups, wellness activities, dining experience
Event carbon footprint calculation and offset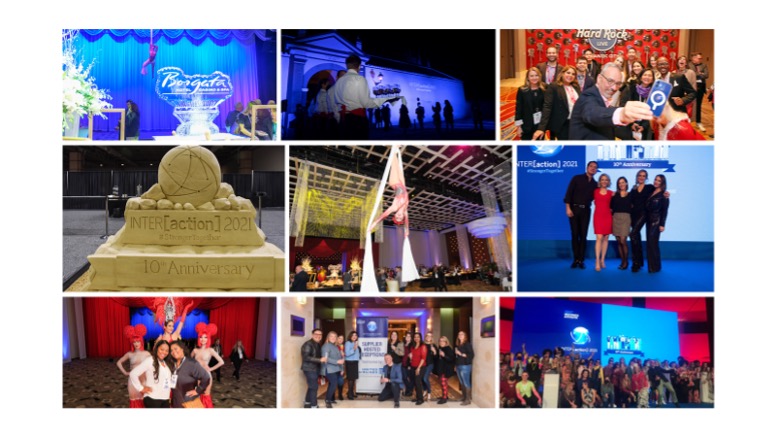 RESULTS
With rigorous planning and coordination, complex program management, ambitious timelines, managing different formats and time zones simultaneously, multiple suppliers, and last-minute cancellations due to changing government requirements, our suppliers were thrilled that against all odds, we were able to bring the team together, coordinating multiple peer-to-peer connection points. They truly valued the opportunity to network with our global team of meetings professionals – something they have missed for some time! Our employees also came away with a deeper insight on our business and suppliers. Additionally, they were inspired, educated, and motivated to bring new solutions, in collaboration with our suppliers, to our customers.
The mobile app was a valuable tool to enable connections between those attending the different formats. The event generated more than 90,000 minutes of engagements, 9,670 contact shares, and over 1,000 posts.
As environment sustainability is a key priority for American Express Global Business Travel, we are proud to announce that INTER[action] was a net-zero event. The planning team made efforts to reduce event carbon emissions, measure the carbon impact of all event-related services, and offset the remaining carbon footprint through projects that absorb C02. The total impact across both events was estimated at 396.5 metric tons of CO2 (220.4 from Atlantic City + 176 from Seville), which is being offset via several projects, including land restoration, planting of trees, and renewable energy projects. As a result, no net release of carbon dioxide into the atmosphere will be caused by INTER[action].
Through these hard times, we, as an industry, have acquired the necessary perspective, technical skills, and endurance to thoughtfully retool our approach. We have also built a deeper appreciation for our relationships with our suppliers, colleagues, and customers. INTER[action] has provided a critical platform to strengthen relationships and develop knowledge, which will enable us to provide greater value to our customers. We are #StrongerTogether!
The team is now planning for INTER[action] 2022. The event will take place from November 17–20, 2022 in Houston, Texas. For more details, contact us  at [email protected]