Each month American Express Global Business Travel (GBT) will bring you the latest business travel trends and insights based on client research, traveler surveys, and data analysis by our Global Business Consulting experts. This research helps understanding of sentiment, new developments, and how organizations are managing their return to travel.
Covid vaccination programs continue around the world: in GBT's top countries, between 30 to 50 per cent of people are now vaccinated, although Australia lags the rates in North America and Europe. The European Union's "digital green certificate" for travel has now been launched. The app-based certificate gives travelers a QR code to allow them to avoid quarantine in other member states.
Since mid-July, governments around the world have closely monitored the increasing numbers of confirmed cases of Delta variant.
Returning travel patterns: where people are permitted to travel, they will travel (GBT Global Business Consulting, July 2021)
Domestic travel continues to represent most travel activity (more than 80%) and this is not expected to change much during the summer period, normally a slow period for business travel. If restrictions on travel reduce and vaccinations continue to roll out, intra-regional and international travel could take off from September.
Air: The 7-day rolling average of passengers passing through US airports is currently averaging at 80% of 2019 levels. This may indicate that the majority of people have confidence in flying again. (TSA checkpoint traveler throughput numbers)
Hotels: China is ahead of the curve on return to travel, expecting a 3-5% increase in hotel bookings. The U.S. is highly volatile with some cities / regions, seeing bookings fluctuate by as much as 5%.
Bookings in Europe are flat or slightly decreasing, while APAC (excluding China) is showing a flat to slight increase.
Client confidence about travel plans is growing – but the rise of COVID-19 variants is pushing back restart dates in some regions (GBT Client Check-In, June 2021)
The majority (98%) of GBT clients expect travel to return before the end of 2021. It should be noted that the emergence of new COVID-19 variants and an increase in cases in some regions have pushed back some restarts from Q3 to Q4.
36% increase in clients planning for the return to travel versus May
The number of clients ready to travel in the next 30 days is up 47% from where it was in May. North America is in the lead, with 26% of clients ready to get back on the road within a month, thanks to high vaccination rates and relaxing restrictions. However, EMEA just 10% of clients are prepared for travel in the next 30 days, rising to 14% in APAC and 16% in LAC – in these regions, increasing case numbers have pushed back the travel restart.
Looking at purpose for travel, more than half (53%) of clients surveyed in the latest Client Check-In cite 'business critical', with client-related activity coming second at 35%. A slight increase in 'internal travel' – now at 18% – indicates increased confidence in returning travel.
Companies are accelerating their preparations to return to travel, easing restrictions on bookings and approvals (GBT Client Check-In, June 2021)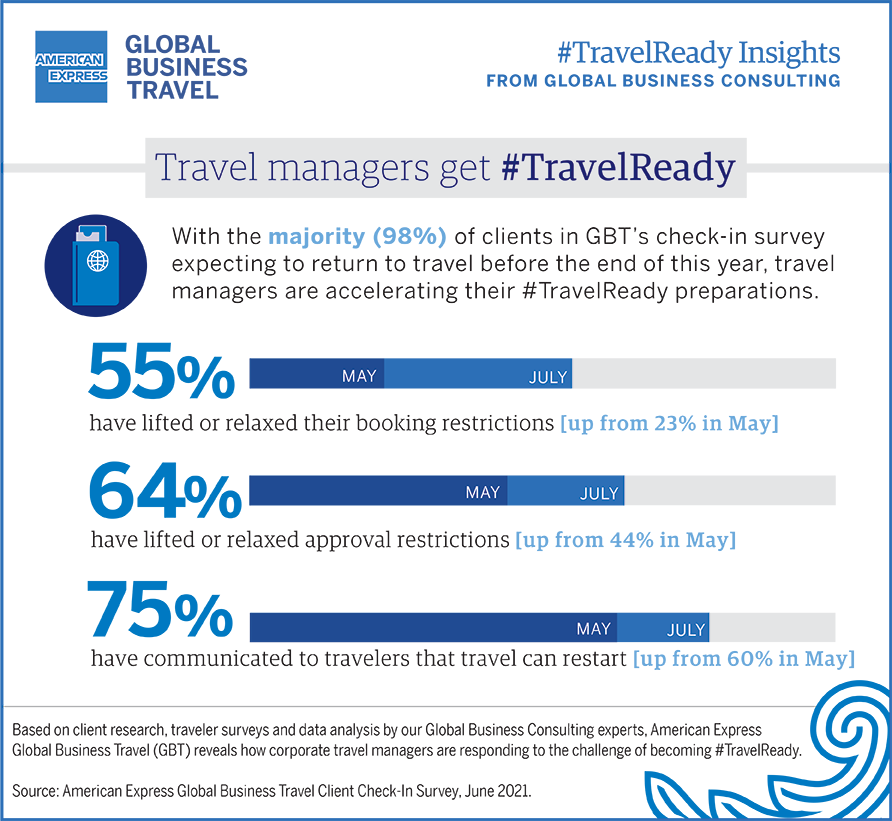 Traveler trust in suppliers is high (GBT Trip Feedback, June 2021)
As travel restarts, travelers show high levels of trust that suppliers will look after their safety and wellbeing. According to client scores out of a possible 5.0 points.
Air suppliers: 4.4
Hotel suppliers: 4.4
Ground transportation suppliers: 4.3
The average client confidence score for suppliers was 4.4.
On the Road to Wellbeing
5 Steps for Understanding and Managing the Impact of Business Travel on Employees