With the recent climate change conference in Glasgow still fresh in our minds, it comes as no surprise that many of our clients have been turning their focus towards sustainability. We've heard that corporate travel managers have been faced with a growing volume of questions recently from both travelers and internal stakeholders about plans for greener business travel. At American Express Global Business Travel (GBT), we share their concern which is why we're leading efforts to achieve net-zero emissions by 2050.
Given that ambitious goal, we wanted to make sure our clients have the technologies they need to sustain a cleaner travel program as travelers ramp up efforts for a return to travel. The tech gurus on our Global Business Consulting (GBC) team stepped up to the plate and created Green Compass, a data insights dashboard with innovative capabilities.
The tool provides direction for decarbonization
Though it's in the experimental stage, it features advantages that can easily be applied in the future. It gathers your company's travel data as well as data from a wide range of industry sources and provides a comprehensive view of CO2 emissions across your travel program. Through easy-to-digest graphs and charts, travel managers can learn ways in which they can reduce emissions. Since travel and in-person meetings are essential to business growth, Green Compass shows how aircraft and hotel changes can fulfill the need to connect while having less impact on the environment. How does it work? You click on various sliding levers to find out what you need to do to lower emissions. For example:
Shift to a cleaner aircraft
Move to another hotel brand with lower CO2 emission
Switch from air to rail
Also quite interesting is that Green Compass utilizes carbon-reduction targets to help you reach your goal. By measuring your carbon footprint against those targets, you'll learn how much you need to save in carbon emissions in the long run. To figure out next steps, click on one of the sliding levers on the dashboard and you'll find out the amount of carbon emissions you can save by making different types of changes in bookings, like switching the cabin type or going from air to rail. Because the levers shift as a sliding scale, you'll know the calculated changes required whether you need to reduce emissions by a little or a lot.
Independent assurance provider Carbon Footprint has verified the methodology, data integrity and calculations behind Green Compass's Emissions Optimization Algorithm with the Carbon Footprint Standard™ – Verified Calculation Method.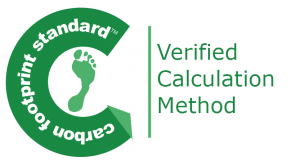 After determining the calculated changes, if you still have a gap and need an added boost to achieve your target, the dashboard provides recommendations, such as investing in sustainable aviation fuel (SAF) and/or participating in a carbon offset project like clean water rehabilitation. Fortunately, a wide variety of globally sourced projects are already accessible to our clients through our carbon offset platform.
Would you like to see the dashboard in action? Schedule time to see us at the Global Business Travel Association (GBTA) Convention, November 17-19 in Orlando, Florida. Can't make the event? Contact our GBC team for a live demo. As you explore the tool, you'll find out how a consultant can work with you to evaluate the impact of your carbon-reduction changes and develop an action plan.
How GBT helps clients today
To carve out the most sustainable path forward, companies need to be equipped with carbon-efficient tools that inform their decisions throughout the entire travel journey. Our Neo™ booking tool makes it intuitive for travelers to choose greener options by highlighting more sustainable flights, hotels, and rental cars in their search results. When searching flights, they can filter results by carbon emissions and see data for the CO2 footprint of each option. Then when they need to book a hotel, they can easily see which hotels are flagged as meeting your company's sustainability requirements. If they're renting a car, they'll be able to filter and select electric/hybrid vehicle options.
Insights and Premier Insights™
If the pilot tool, Green Compass piqued your interest, you'll probably want to consider Insights or Premier Insights reporting tools which are available to our clients today. Travel managers who want in-depth reporting of emissions based on their travel spend can benefit from either of these tools which feature top-line sustainability metrics.
In one look, they'll see emissions broken down by air, rail, hotel, and car. They can drill down and explore opportunities to reduce emissions by switching the transportation type (air to rail) and click on our carbon offset platform to offset emissions. The tools are a great knowledge base of information, delivering insights and recommendations specific to their travel program. Green Compass can easily complement these tools by turning those insights into action steps that support the decarbonization journey.
While these booking and reporting tools are key drivers to a more sustainable journey, they're merely some of the ways in which clients can build a greener travel program. As you give further thought to your own company's carbon footprint, reach out to us to discuss more ways you can benefit from our tools and resources.