By Grace Wong
From the team behind Mott St and Ruxbin comes Second Generation, a cozy new Logan Square spot in the former Mini Mott space, featuring self-described "Asian American bistro food" with flavors plucked from the collective childhood memories of partners Vicki Kim, Nate Chung, and Edward Kim.
With items like a chopped salad with perilla leaves, kalbi steak frites, and its infamous Mott Burger with miso butter and hoisin aioli, it's no wonder why Second Generation, which opened in August 2022, has already attracted a loyal fanbase. Great news for fans of creative Asian American cuisine with Midwestern flair, less great for those seeking one of the restaurant's 47 highly coveted seats.
We talked to managing partner Vicki Kim to get the inside track on how to snag a table and the must-orders once you're in. (Spoiler alert: There's a new katsu cruncher in town.)
Resy: How many seats are there at Second Generation?
Kim: We have 47 seats.
When do reservations drop on Resy?
Two months out.
How quickly do seats get booked out?
I would say for prime time – at 7, 7:30, or 8 pm – about three weeks out.
Are any of the seats in the restaurant held for walk-ins?
The bar is completely walk-in-friendly and there are a couple of tables for walk-ins, but that can change. If it seems like a slower period, we'll release them as reservations, but people are welcome to dine at the bar where we have six seats and serve the full menu.
What time would you recommend stopping in to get one of the walk-in seats?
Come in as soon as possible, right when doors open. They're always welcome to give us a phone call, but because it's first-come, first-served, we do recommend reservations.
I think that scares people off to see when our reservations are filled and they think there's no space to come in, but people can drop off here and there. When you're a tiny restaurant, seats will go very quickly.
During peak time, how long is the typical wait for a walk-in?
If you come at 7:30 pm, it could be an hour-and-a-half to a two-hour wait. But you might get lucky and we might have space at the bar to accommodate you, or maybe someone fell off the reservation list and we can get you in right away. It's not super common but it is possible.
When are your busiest nights?
Definitely Friday and Saturday. I recommend coming in on Wednesdays and Sundays.
Can people have a cocktail while they wait for their table?
Yes, as long as there is space at the bar, we definitely encourage that.
Midnight pasta.
How many covers do you do on your busiest nights?
Around 125, which is three full turns – basically every seat in the house gets seated three times. We do have seating limits for an hour and a half to two hours because the restaurant is in high demand and in order for us to accommodate everyone, we need some limits. The reservation starts at the time they were booked for. If guests walk in 30 minutes or an hour after their reservation, it'll affect their table time.
Will you have patio seating in the summer? Are there plans to add more seats outside of the dining room?
We have 21 seats on the patio and we're looking to potentially expand this summer. We opened our outdoor seating last year and kept it open until about October when it got too cold. Typically Mother's Day tips it off or sometime mid-May.
Can people reserve seats on the patio?
They can! But it is subject to weather.
If someone were to set a Notify for Second Generation on Resy, is there a certain day or time they'd be most likely to get a reservation?
Wednesday and Sundays are the best bet. The Notify list is one of the greatest options that Resy provides; you just need to jump on it quickly.
What is the best seat in the house?
We have two round circular tables and it's like a corner booth. I personally love that spot. If it's brunch time, I love being in sun-drenched, naturally lit spots, so we have this dining section in the front part of our restaurant that's underneath all these heirloom photos from our owner's family and I like sitting there.
If you're coming in with a larger party, we can comfortably seat up to nine in our semi-private area. We call it the Reading Room because there's shelving with magazines and cool industry reads there. If you're coming with a group, I'd say you'd want to sit there.
Can people request specific tables?
They can. Whether we can honor it or not will depend on what's available. We'll try to do the best that we can.
Any other tips or tricks to getting a table?
Just give us a call! Don't just wait on your phone hoping you'll get a Notify button. It'll also be easier if you come in as a smaller party. We're such a small restaurant, so parties of five or six are a lot more difficult than a party of two or four. It's definitely more of a smaller gathering spot just by the nature of how tiny the dining room is and how small our tables are. So plan to come with that special friend or a plus one.
The Reading Room.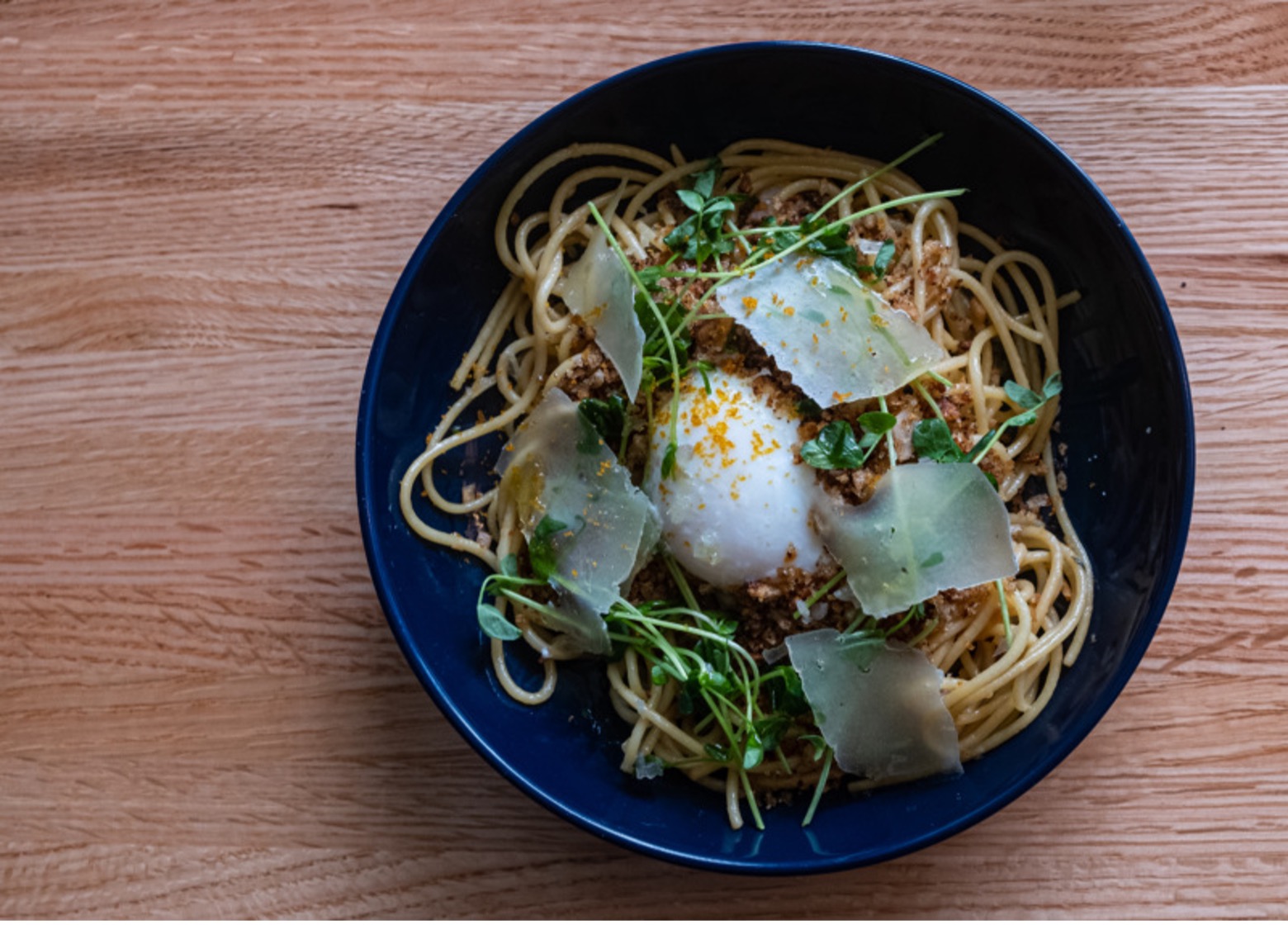 What are some of the must-order dishes?
The Midnight Pasta was birthed out of a chef's late-night craving. What do you do after a long night of service? You go home, you open up your fridge, and you see what's there. You want something that's full-flavored and will stick to your ribs.
It has a scallion ginger base with anchovy breadcrumbs and an onsen egg, which gives a really great, unctuous coating to the noodles, and some shaved bottarga on top. So it's savory, a little funky, and complex. It's just delicious. It's something you crave late at night.
For the fans of Mini Mott, your previous restaurant in this same space, are you bringing anything back from that menu?
We do have the Mott Burger! At Mini Mott, it was a quick-service-style burger so it was a quarter pound, but now it's our original restaurant-size burger, which is a half-pound, the same one we serve at Mott St. And for the vegetarians and vegans: People kept saying that they missed our jackfruit carnitas burger, so we do have that on the menu as well. People were also huge fans of our katsu crunchers, which were our version of chicken tenders at Mini Mott, so now we have a katsu chicken steak. Some fans have told us they like it even better!
Any cold desserts like the taiyaki you used to make?
At one point, our taiyaki machine died. Then we ordered a new one from Asia and it ran its life, so we don't have taiyakis anymore. But we do have in-house soft-serve and we do do it in a cone. If you order dessert, you'll find it in various sundae forms, or you can pop in for takeaway house-made soft-serve.
What else do you want people to know about Second Generation?
We're a small neighborhood restaurant put on by people who actually live in the neighborhood and are part of the community. We're thankful for the support and people being open to try us and our new concept. We've been floored by the regulars that we've been able to make already, and we're excited that people are excited about what we're doing, which we describe as Asian American bistro food. It's peppered by our palate that has Asian upbringing in an American environment.
What does the future hold for you?
The demand is high and we're so thankful for it, so we're just trying to do what we can to accommodate as many people as possible and that includes extending more services and service hours. If we can, we will. If anybody knows of cooks and staff, let us know so we can keep our doors open more and feed more people!
Grace Wong is an award-winning journalist covering food and travel. Since working at the Chicago Tribune, she has freelanced for publications like Better.net, The Philadelphia Inquirer, and Block Club Chicago. Follow her at @GraceWong630. Follow Resy, too.