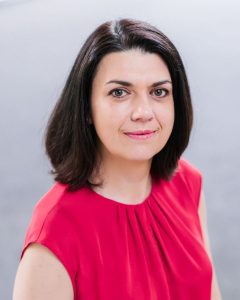 Joanne Sully, Vice President & Regional General Manager, Australia & Southeast Asia, American Express Global Business Travel (GBT) 
As we continue our month-long celebration of Women's History Month, American Express Global Business Travel (GBT) is highlighting some of its senior female executives. Today we shine the spotlight on Vice President and Regional Manager, Australia and Southeast Asia, Joanne Sully.
Since joining GBT in 2013, Joanne has been responsible for developing the regional strategy in Australia and Southeast Asia. Leading a team of approximately 500 people working together to drive business growth and performance, her impressive track record in delivering strong sales results and client retention has made her an instrumental part of GBT's success.
She is passionate about gender equality in leadership positions and has mentored many women throughout her career. Her initiatives within this field were instrumental in GBT being awarded "Employer of the Year" in Travel Weekly's Women in Travel Awards 2016.
What does International Women's Day mean to you?
International Women's Day is about celebrating the positive impact that women have on the world, on business and on each other. I feel lucky to have worked with many inspirational women and men, who have helped to guide me in my own professional development, and that is something that has driven me in my own desire to champion women in the workplace.
What's one barrier that you have you faced, as a woman, in becoming successful in your field/industry? How did you overcome it?
I don't believe I have come up against barriers simply because I'm a woman.  It's more the barriers I've put in front of myself, because of who I am.
What is the driving force behind everything you do…what keeps you motivated and driven daily?
In addition to growing our business and ensuring that we are consistently delivering outstanding service and outcomes to our customers, I'm incredibly driven by a desire to support others I work with, both male and female, with their professional progression. The positive influence that my mentors have had on my ability to remain resilient and overcome challenges has instilled in me a desire to mentor others. This desire to support our high performers professionally is something that is ingrained within our culture at GBT, and was a key reason why we won Employer of the Year at the Inaugural Women in Travel Awards in Australia recently.  For me, personally, being challenged and not being comfortable in a role keeps me motivated.  Once I feel "comfortable," it's time for something new and challenging.
What advice would you give someone looking to start working in the business travel industry?
Few industries are as inclusive of gender, race and background as business travel, and I've found diversity to consistently drive stronger business outcomes and a more enriching company culture.  If you are hardworking, collaborative and enjoy developing solutions on daily basis, you will most likely thrive in the business travel industry. Be prepared to broaden your role, take on more than is expected and have the courage to take career risks and venture out of your comfort zone.
Lastly, what three skills do you think are essential to be a great leader?
Communication is absolutely key and goes without saying. Operating with integrity and treating people with respect, regardless of their position is essential, and lastly, setting high standards and holding yourself and everyone in the business accountable.
 American Express Global Business Travel (GBT) is a joint venture that is not wholly owned by American Express Company or any of its subsidiaries (American Express). "American Express Global Business Travel," "American Express Meetings & Events," "American Express," and the American Express logo are trademarks of American Express and are used under limited license.