Joanna Macleod, Chief Transformation Officer, American Express Global Business Travel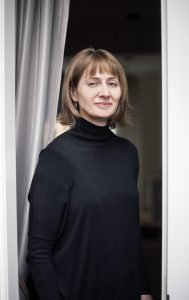 As we continue to celebrate Women's History Month, American Express Global Business Travel (GBT) is highlighting some of its female executives. Today we shine the spotlight on our Chief Transformation Officer (CTO), Joanna Macleod.
As CTO, Joanna leads the integration of GBT and HRG, development of our shared culture strategies and contributes to the development of our digital servicing capabilities.
What does International Women's Day mean to you?
Equality and fairness. It reminds me that in some countries around the world, women don't have the rights or opportunities I do and which I often take for granted.
What's one barrier that you have you faced, as a woman, in becoming successful in your field/industry? How did you overcome it?
I don't think this barrier is defined by being a woman. In my case, I was limiting myself by thinking the status quo would not change. I changed my mindset, things changed and opportunities opened up to progress in my career.
What is the driving force behind everything you do…what keeps you motivated and driven daily?
I love creating real change in organisations. The biggest motivator, though, is finding out that I've been a positive influence for an individual—when someone tells me that I have made a difference for them personally.
What advice would you give someone looking to start working in the business travel industry?
For someone new to the industry, I'd say grasp the many opportunities it offers to be in an industry that is evolving fast, bring insights from your experience in other industries and challenge the way things are done. And of course, travel and experience new cultures…I've learnt so much from the new connections I have made!
Lastly, what three skills do you think are essential to be a great leader?
A good dose of self-awareness—know what you are really good at and what needs work. Actively manage yourself –easy to say, difficult to do—and aim to be the best version of yourself, rather than looking at other people. Part of this is getting the best team around you. Don't compromise on that and make sure they bring diverse thinking and perspectives and will challenge you. Finally, have the courage to be true to your own values, to speak up and tackle difficult issues and do what is right.
American Express Global Business Travel (GBT) is a joint venture that is not wholly owned by American Express Company or any of its subsidiaries (American Express). "American Express Global Business Travel," "American Express Meetings & Events," "American Express," and the American Express logo are trademarks of American Express and are used under limited license.