Chef Cliff Rome, dining at Virtue restaurant. (All photos by Jaclyn Rivas for Resy)

By Chandra Ram
Walking through neighborhoods like Beverly, Englewood, Chatham, and Hyde Park, you can't help but see the rich history of Chicago's South Side communities amid fast food spots and other newer additions.
For chef Cliff Rome, this walk brings up memories that resonate deeply in his heart – of a childhood growing up around neighbors like Muddy Waters, spending Sunday afternoons eating at Gladys' Luncheonette with his grandmother, and the pleasure of biting into a just-made glazed doughnut hole from Old Fashioned Donuts.
Today, as the chef and owner of five businesses on the South Side under the Rome's Joy name, he sees possibilities in the people he passes and opportunities to help them and the area develop. He also sees friends who have joined him in a shared mission to create businesses that nurture the community as they feed the people who come from all over to enjoy what they cook. Here are a few of his favorites.
Rome really admires the work and dedication of May St. Cafe's chef-owner Mario Santiago. "He is a great friend of mine and a wonderful person," Rome says. "He prides himself on being focused on community first and provides opportunities for folks who have been disenfranchised. And I love the cultural experiences he creates with his cooking."
Rome describes Santiago's food as "mostly Puerto Rican with some Mexican." Santiago is Puerto Rican, and his restaurant partner is Mexican. Rome explains, "It's a melting pot of Latin cultures. We talk about how it's all derivatives of African cuisine. The beans, the rice, they are very prevalent in our history and heritage. I love what he's able to do with food and how he tells that story."
1146 West Cermak Road
"Chef-owner Erick Williams is like my baby brother, and what he is doing here is incredible," Rome says, proudly. "I'm incredibly proud of him. He took a corner on East 53rd Street that was known to people on the South Side and opened a place that changed how we thought about Southern and African American cuisine. He takes grandma's recipes that we know and elevates those ideas. The people who created this cuisine deserve accolades and respect, and he makes sure that you understand that. He's writing a narrative around our food, culture, and fellowship. We don't have to wait for other people to celebrate us; we can do it ourselves."
His go-to orders? "The short ribs, hands-down, are my favorite. But the salmon, the fried green tomatoes, cornbread, the biscuits with pimento cheese; it's all good," he adds.
1462 East 53rd Street
"I adore this place and what Connie Simms-Kincaid and her family put together," Rome says. "It's not an expensive place. They wanted customers who enjoy the experience they provide. It makes me feel like I'm eating in my great-grandmother Mama T's kitchen. You feel safe and taken care of, and you don't mind the wait."
Rome loves to order eggs, Southern smothered potatoes, catfish, grits, greens, and his favorite: pancakes, whenever he stops by. "It's simple food." The pancakes, he says, "remind me of Gladys, where I used to go with my grandmother as a kid, which was where you saw Black faces in our community. That's what this place is like: You eat until your heart is full and your stomach is plump." 405 East 75th Street.
Note: At the moment, 5 Loaves Eatery is closed but the restaurant is gearing up to reopen soon and are raising funds to do so.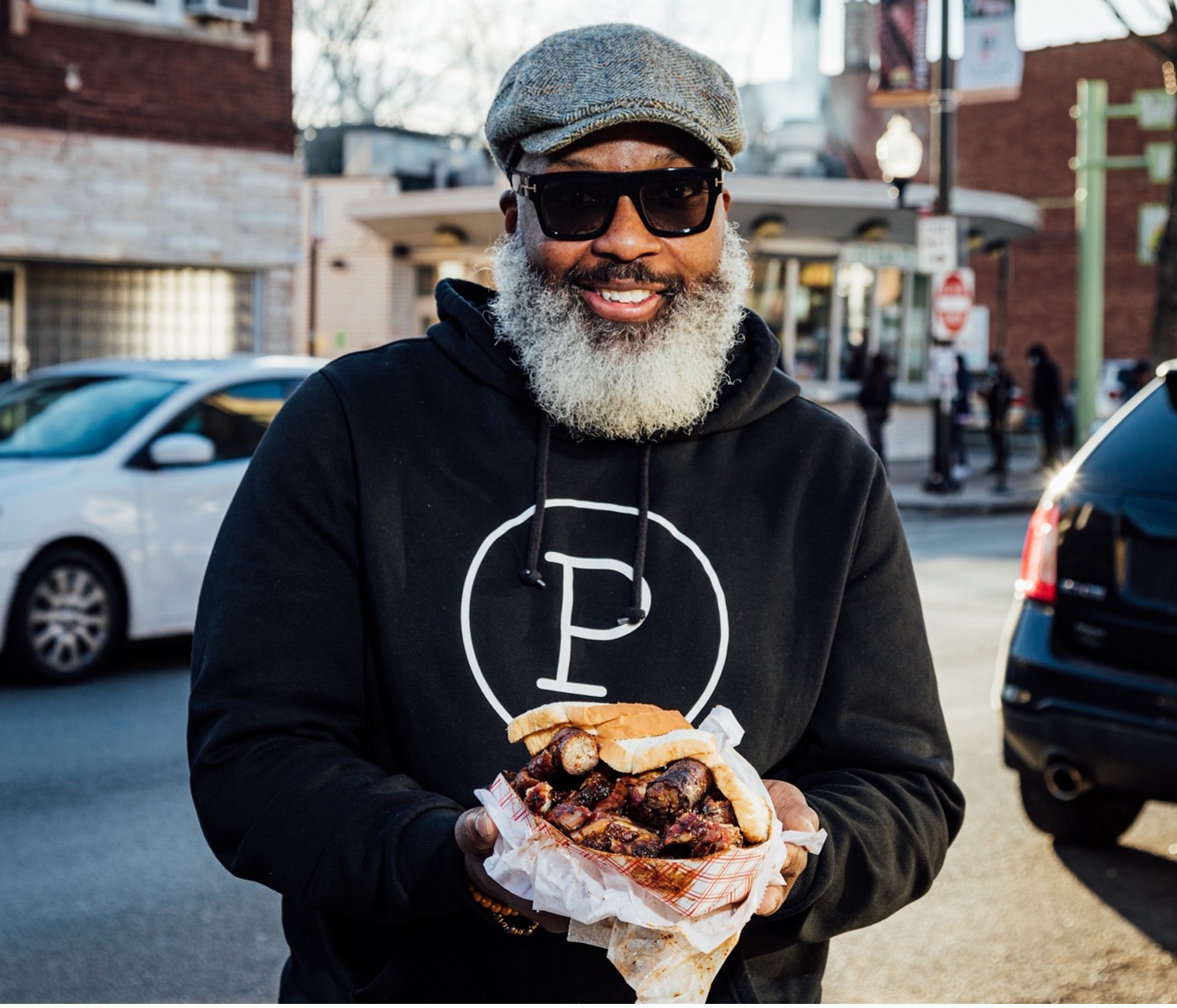 Cliff Rome at Lem's Bar-B-Q.
"Lem's makes me smile as soon as I see the sign, which is the original one, from the '50s," Rome says. "Lem's was the first Black-owned barbecue restaurant in Chicago. It was ahead of its time and was one of the premier places that folks could afford."
At Lem's, Rome recommends the hot link and rib tip combo. "You have to hold it with two hands; it's so much food. The smell of it puts me in a happy place, thinking about summertime, friends, and fun food. When you are eating that, I don't care if you are in your Brooks Brothers suit, you feel like a kid. You sop up the sauce with the pieces of bread and it just makes you happy."
311 East 75th Street