By Paul Metselaar, Chairman and CEO at Ovation Travel Group
In late April, we welcomed our American Express Global Business Travel (GBT) executive leadership team (ELT) from the US and UK to our new Ovation Travel Group office in Manhattan. It was the first time the members of the GBT and Ovation teams were meeting face-to-face since the two companies have joined forces – a deal made possible during the pandemic with videoconferencing solutions.
And while there certainly are benefits to tools like Zoom and Microsoft Teams, there's no doubt in my mind that conducting business face-to-face is far superior to virtual meetings after seeing how thrilled everyone was to be back in the same room again.
From an evolutionary standpoint, we humans weren't designed to stay isolated from one another and have most of our interactions via computer screens. It's literally ingrained in our DNA to be social creatures. As part of the primate family, the most social of animals, we thrive in group settings. It's key to our survival.
Of course, meeting in person after working remotely for more than a year can be strange at first – which is mind-boggling when you think about it. Learning and collaborating as a group is what we've known our entire lives, yet 18 months after a minuscule virus invaded the planet, many of us have forgotten what it's like to be in each other's physical presence.
Still, I witnessed how quickly that awkwardness evaporates when old colleagues reunite in real life. Masks may have been obscuring their smiles and fist and elbow bumps may have replaced handshakes and hugs, but the ELT members were genuinely happy to be back together in an office environment.
Unveiling our new office space
Not only was this meeting an opportunity for us to build a rapport with our new GBT colleagues but also a chance to enjoy our shiny new digs that we designed with care and have been barely able to use. We moved into this stunning space near Grand Central Station in December 2019 – four months before the pandemic transformed it into a ghost town.
At Ovation, we aim to give our employees the same special treatment we extend to our customers – which is why we spent months meticulously creating a sleek, modern office space our people would be inspired to work in, implementing special touches throughout.
During their visit, GBT's leadership team especially loved the centerpiece in our reception room – a traditional split-flap departure board still seen at some train stations that makes the clack-clack-clack sound as the characters flip. It was programmed to change every so often to say things like "Welcome American Express Global Business Travel" and "Ovation + GBT, better together."
Preparing for their arrival
As I noted earlier in my "Pandemic's New Normal" article, the travel industry must work together to assuage clients' concerns and fears about the travel experience and demonstrate that every possible step has been made to mitigate the risks associated with COVID-19. I believe a similar approach also should be employed as companies reopen their offices and invite employees back. If people are worried about their safety going into the workplace, it will only arouse feelings of apprehension and resentment.
To make GBT's leadership team feel perfectly at ease, we made sure they understood everything we were doing to make it a safe gathering, from getting the office sanitized top to bottom to implementing health and safety protocols.
Our facilities manager worked closely with GBT's team to make certain all Centers for Disease Control and Prevention (CDC) guidelines were being followed, such as daily temperature checks upon arrival, the wearing of masks, separation of seating, and the completion of a short COVID questionnaire and release form. We had extra masks and bottles of sanitizer on hand and displayed signage throughout the facility reminding people about social distancing rules.
Because we had communicated the measures we'd be taking ahead of the meeting, the ELT group understood what was required of them and happily complied with the rules.
Keeping our distance
The nice thing about our new Ovation space: because of the retractable walls and transportable furniture, we can easily transform the meeting rooms to suit our needs. With about 15 ELT members present, we decided to utilize our largest conference room for the event. We created a wonderful presentation room while also seating attendees far enough from one another to meet CDC guidelines and create a safe, relaxed atmosphere.
But this may be a challenge for us moving forward with the surge in interest from employees to gather in person – making sure we can comfortably accommodate all those coming into the office with social distancing measures in place. After the ELT meeting, we've been flooded with meeting requests from both Ovation and GBT.
But after nearly a year and a half of being isolated from one another, this is a glorious problem to have. You don't realize how valuable sharing a moment with colleagues face-to-face is until this freedom we previously took for granted has been stripped. I'm delighted people are ready to come together after the pandemic forced us to remain apart. It's a chance for us to be human again while still fulfilling the promise of care for our employees and clients.
Boris Johnson, digital health passports, pricing predictions, and sustainability. Those are some of the topics Drew Crawley, chief commercial officer of American Express Global Business Travel, addressed during an interview for The Institute of Travel Management's Revive virtual conference in April.
For insights from Crawley on the state of the travel industry and what companies can do to prepare for the relaunch of their travel program, tune into the full interview here.
Ready to make a live appearance at the next meeting or event? We've put together some precautions designed to keep you safe when attending a group gathering in-person. It includes everything from the information you need to know before you go, items to be prepared to have on hand, precautions to take during the event as well as travel and accommodation tips.
To discover what safety precautions to take before, during, and after your next live event, click the image below.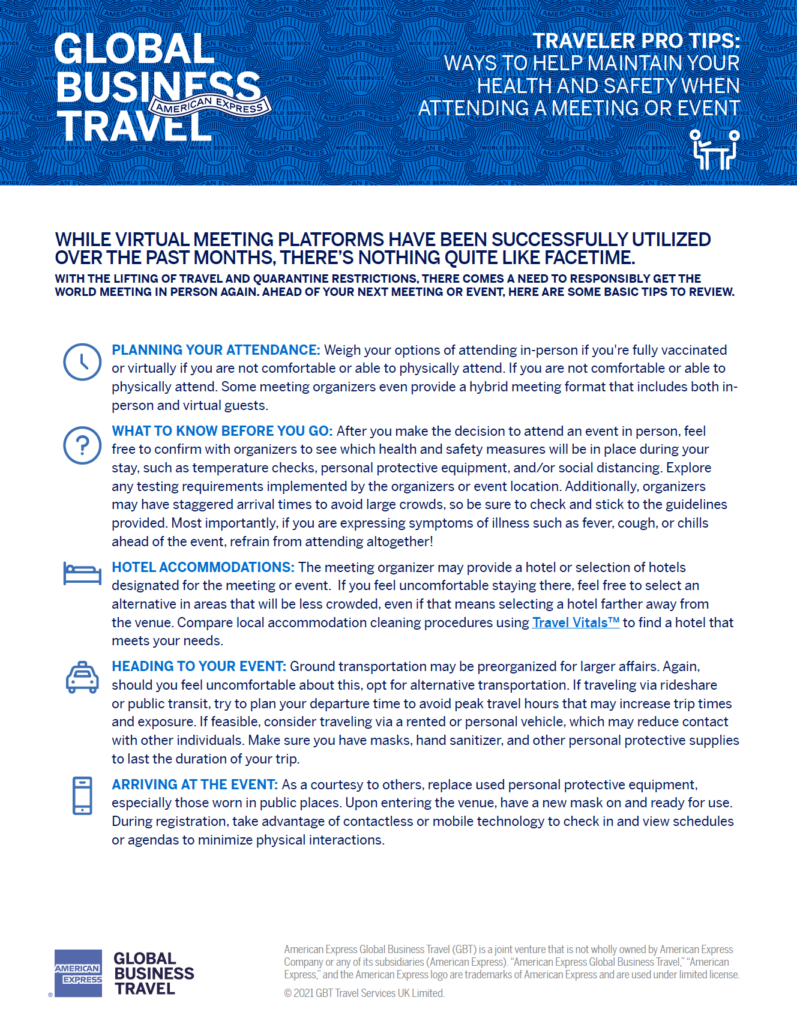 Get-togethers that do good and feel good
Sustainable meetings and events influence change and leave a positive legacy. According to the 2018 Global Economic Significance of Business Events report commissioned by the Events Industry Council, business meetings and events revealed a staggering US$1.07 trillion in worldwide spend in 2017, generating nearly 30 million jobs. So, it is safe to say by promoting the use of resources in an efficient and responsible way, the meetings and events industry can have a huge influence in helping to minimize the negative impact on the environment.
There are several benefits to building a sustainable meetings and events program for all stakeholders involved. With an increased focus on environmental, social, and governance (ESG) factors, companies are able to improve their competitive advantage, mitigate risk, and capitalize on opportunities. This can also help demonstrate your ESG agendas, including environmental sustainability, diversity, equity, and inclusion whilst showcasing your principles and values.
See below some of the benefits to building a sustainable meetings and event program:
Raise awareness and inspire change.
Empower the brand´s reputation.
Attract investors, sponsors, and clients.
Generate cost savings.
Increase attendees' health and well-being.
Greater connection and reward for attendees.
Attract top talent.
Trigger innovation.
According to Nora Lovell Marchant, Director, Global Risk, Compliance and ESG at American Express Global Business Travel, "When we can gather together again, meetings will be even more meaningful. Meetings and events aligned to ESG objectives create value and benefit stakeholders. Whether planning carbon-neutral meetings using carbon offsets or giving back to local communities with volunteer activities, sustainable and inclusive events are the future."
Roadmap to sustainable meetings and events
It's exciting to see organizations embracing sustainability with climate change remaining an important and growing consideration in meeting planning. According to the American Express Meetings & Event 2021 Global Meetings and Events Forecast, 79% of global respondents report that their organization emphasizes sustainability in meetings and events. But how do you translate good intentions into actions? Here is a roadmap for building a best-in-class sustainable events program:
Start with the strategy: The first step is to set out a clear sustainability strategy that defines your objectives and includes your event sustainability policy. This is critical to make sure specific guidelines and processes are in place to help you meet your sustainability goals and achieve their desired outcomes. The policy should be linked to your organization´s ESG and materiality policies to help you address the relevant sustainability issues and concerns that are specific to your events.
Allow time for planning: Organizing a sustainable event starts long before the event takes place and continues after it ends. Consider every touchpoint and determine where you could incorporate sustainable practices whether this is in relation to gifting, using eco-friendly food packaging, understanding food requirements to avoid food waste, or using mobile apps to minimize printing requirements, etc.
Engage with your supply chain: Sustainability is a game-changer in procurement so it's important that your suppliers understand what you want to achieve and what it could mean for your relationship. Developing a sustainable supplier engagement strategy can help you reap the benefits of a green supply chain. Share your policy with suppliers early and often, including in request for proposals. Get their insights to improve your policy. Meet regularly with your suppliers to engage on sustainability and collaborate on how to achieve the best outcomes.
Make sure your stakeholders are on board. Communicating with your internal stakeholders will help drive engagement and adoption of your sustainability strategy. The success relies on them understanding their role and how they can contribute to driving sustainable meetings and events. But don't stop there: make sure you also communicate with your wider community of stakeholders, including event attendees and shareholders. Make them aware of what you're doing as an organization to drive the green agenda.
Track your progress: Monitoring and reporting the impact of your sustainability activities is key to understanding and communicating the impact of your green initiatives. Without this insight into your performance, you won't be able to review your progress and work with your suppliers to drive improvements. You can´t manage what you don´t measure.
Event sustainability considerations
When building a best-in class sustainable meetings and events program, it is important to incorporate the highest industry standards and best practices to your event planning and operation processes.
We recommend organizations align their values and goals while taking into consideration how best to source and plan sustainable meetings and events. Here are some key elements to minimize the greenhouse gas emissions generated by your event, shrink the event´s carbon footprint as well as promote responsible and limited consumption:
Procurement: As a general principle, always select suppliers that are independently accredited and certified as sustainable and have sustainability policies in place. Engage your suppliers to enhance your sustainability policy and services. Discuss and negotiate sustainability practices in your agreements.
Destinations: Promote sustainable destinations that offer sustainable initiatives and that require transportation strategies that minimize greenhouse emissions.
Venues: Recommend accommodation and venues that mitigate usage of energy, water, and waste and promote renewal energies. Selecting venues that are centrally located will promote walking to and from your event.
Waste: Minimize plastic, paper, and any waste, avoiding disposable products while promoting the use of technology and reusable elements. Increasingly, meeting owners and attendees will expect you to use recyclable options for gifting and event name badges.
Ground transportation: If you need to provide transfers, use providers who offer fossil-free vehicles and carbon-neutral transport options.
Food & beverage: Source local, organic, and seasonal items, minimize meat options, and adapt menus to include farm-to-table experiences.
Carbon-neutral events: Work with your meetings and events specialists to calculate the CO2 generated by your event and offset through accredited projects (plan mitigations such as carbon offsets).
Diversity: Support the use of diverse, equitable, and inclusive suppliers to align with your organization's ESG strategy.
Making the transition to sustainable meetings and events won't happen overnight – it's a process, and you will learn more every day as you roll out your sustainability strategy and interact with your suppliers. Don't be afraid to start slowly and work your way up. And make sure you always share your success with all your stakeholders – including your suppliers and event owners. People love to be part of something amazing.
American Express Meetings & Events sustainability team provides a best-in-class sustainability approach to meetings and events, incorporating the highest industry standards and best practices for event planning. Our team will align with your values and goals and work in partnership with you to plan and deliver a sustainable, inclusive, diverse, and socially responsible meetings and events program.
Keeping 10, 20, 30 people engaged during a virtual meeting can be challenging with all the distractions at home, so how the heck do you keep hundreds or even thousands of online attendees tuned in all day during a hybrid event or conference? To find out, we asked a couple of our experts – Alison Squillacioti and Morgan Webb, a senior program manager and meeting planner, respectively, with American Express Meetings & Events – to share their top tips.
1. Mind the time zone
When planning a hybrid event, you have to be sensitive to the different time zones attendees are in since they may be spread across the country or globe – which is not an issue when meeting in person.
Case in point: Alison, a certified meeting professional, was recently helping to plan a three-day sales event with 400 attendees across the United States and said they couldn't have an 8 am EST kickoff since that would mean a 5 am start for those on the West Coast.
"We had to think of how we were going to break down the agenda each day to accommodate everyone's schedules," Alison said. That meant a later start time than usual.
Since it's not always possible to accommodate everyone's schedules, especially if it's a global event, be sure to offer attendees on-demand options so they can access recordings of the sessions after the event when it's convenient for them.
2. Break things up
Morgan pointed out that people have extremely short attention spans, so one way to combat an audience's lack of concentration is to keep sessions on the shorter side.
As Alison explained, with in-person events, you may have sessions that go on for two or three hours, but that format doesn't work well with virtual attendees, especially if they have kids crying, dogs barking, and doorbells ringing in the background.
"You can't have somebody sitting online at home from 10:30 am to 5:30 pm," she said. "So, I would suggest a short break every couple of hours to keep everyone engaged. If the event is a six-hour virtual day, then four breaks would be ideal."
3. Choose the right facilitator(s)
To capture an online audience's attention, it's crucial to have a dynamic emcee or facilitator who serves as a link between the live attendees and virtual participants. Choose one that knows how to work the crowd – even when they can't see the crowd.
To make sure they weren't losing virtual attendees for the recent hybrid event they were planning, Alison and the team took this idea a step further. "We thought it would be better to have two people who could engage the online audience, so we had two facilitators: one who was a virtual emcee keeping an eye on the online audience and then a traditional conference chair who was welcoming everybody."
Another reason to have a strong facilitator steering the event: to help keep things moving and make sure things go according to schedule – which is crucial for hybrid events.
As Alison explains, "Presenters have to keep with the agenda because some people are only attending specific sessions and aren't logging on for the whole day. If they log on thinking that the session starts at two o'clock and things are running behind, they're going to log out and you're not going to capture them. So it's very critical to keep to that schedule."
4. Introduce the tech beforehand
Morgan said she has seen different platforms and technology used for virtual/hybrid events, which means attendees may need to download and learn how to use new software.
"So it's important both attendees and exhibitors alike are familiar with the platform before the conference is live," she said.
After all, you can't engage virtual attendees if half of them are struggling to enter the event.
Morgan recommends giving attendees access to the platform ahead of time, along with a how-to guide or FAQ so they have a chance to download the software, see how it works, and play around with it.
To create a better user experience, she also suggests a webpage where users who are experiencing issues or who have questions can go for support before and during the event.
It's also recommended to have all the links to the general sessions and individual breakouts in a central location so attendees don't struggle finding where they need to go.
5. Create customized content
Morgan said one of the most important aspects of organizing an event is to have relatable content targeted to your audience. While this is true for attendees at in-person events, it's even more applicable for virtual participants who don't have to climb over people's laps and sneak out the back door of an auditorium if they're bored and want to duck out of a presentation.
To help capture your online audience's attention, consider customizing the content to resonate with the different types of attendees or "personas" who will be present. This will require some research to learn more about the participants. You can do this through a pre-event questionnaire or survey, then use their responses to analyze your attendee base and personalize the experience. It also might be helpful to use our "Virtual Attendee Persona" white paper as a guide as you identify and develop the key participants of your event.
One other way to customize content and make it more personal is to invite attendees of a multi-day hybrid event to post pictures to a photo webpage, which can be interesting for the virtual attendees to browse. "It kind of keeps the camaraderie going while many participants are sitting at home for days," Alison said.
6. Foster interaction among in-person and virtual attendees
One of the challenges of hybrid events is making your in-person and virtual attendees feel connected, so you'll need to work on finding opportunities to encourage interaction between the two groups. One of the best ways to do so is through activities that encourage audience participation.
"That may be a wellness activity, like a 30-minute yoga class or a meditation. I've also seen virtual cooking classes, wine tastings, and comedic acts, so there are some fun little spins you can put on a hybrid event," Morgan said.
These activities can help break up the monotony and the ice among online attendees who may feel out of the loop at home.
Another way to connect both groups is through a live Q&A. You may have virtual attendees post questions via a chat and then have a moderator present them to the speaker(s). But for attendees who aren't camera shy, it can be more engaging if online participants can directly ask their questions themselves.
Alison also recommends uniting the two audiences through smaller breakout sessions, which can help both sides connect on a deeper level. For breaks between larger sessions, you also may want to set up a space where in-person and online attendees can "hang out."
7. Let them have a chance to win
In the end, one of the best ways to engage online audiences is to reward them for their participation.
As Morgan said, "Incentives are huge. They give attendees a reason to visit the exhibit hall and attend the various events." She noted that incentives are especially effective for trade shows and getting online attendees to visit the exhibitors' virtual booths.
Gamification also works well with virtual attendees. She said a popular version is a passport game where attendees need to visit all the booths to collect virtual stamps.
"I've also seen this same type of game set up as a virtual scavenger hunt. Sometimes the production companies will hide a word or an animal at the virtual booths for the attendees to find and whoever finds all the animals or words first gets a prize," she said. "There's usually a leaderboard that's visible to all the attendees to stimulate competition."
Want to learn more tips for planning a hybrid event? Check out this other Atlas article.
Health and wellness has become an increasing trend within the meetings and events industry. According to the "Wellness in Meetings and Incentive Travel Study" by the Incentive Research Foundation, 68% of the individuals surveyed noted that wellness is a "critical focus" for meetings and events they have planned. In March 2020 when in-person events came to an abrupt halt, this intensified the growing importance of well-being more than ever – with a focus on the mind, body, spirit and nutrition as a way to improve the event experience, keep attendees engaged, and combat "Zoom fatigue."
The five tips below provide some examples of how you can incorporate wellness into your next virtual/hybrid event.
1. Calm the mind
Mindfulness exercises are known to decrease stress, strengthen the body's immune system, and stimulate and calm the mind. Incorporate guided wellness activities into your virtual events – for example, yoga, guided deep-breathing exercises, and brain-focus meditations – to calm attendees' minds prior to your event or throughout the day. If hiring a meditation or yoga expert is not desirable or within the budget, try something on a smaller scale and provide calming music before or between sessions. You can also provide links to workout videos attendees can follow after the event in their own time.
2. Foster and encourage deep connections
Increased connection is known to strengthen people's immune systems and lower the rates of depression and anxiety. Create an event app to allow attendees to chat with one another and gain an increased sense of connection. Using an event app for your event is not only great for delivering event content but can also present a valuable networking opportunity for event attendees.
3. Communicate health tip reminders
Utilize a mobile app to send push notifications to attendees reminding them of healthy tips. For example, you could remind them to "drink more water" or "take a moment to stand up and stretch" in between breakouts.
4. Be mindful of time
Increased breaks help to minimize stress and can help reenergize participants for their next sessions. When formulating an agenda for your virtual event, be mindful of breaks. Provide your attendees with plenty of time for food and bathroom breaks as well as a moment away from the screen to stretch their legs.
5. Encourage healthy food choices
Encourage healthy food choices by having a chef prepare a healthy meal with your attendees virtually that accommodates a range of dietary requirements. Not only is this a great way to create a dining experience for your event but can also be a way to participate in a fun activity and drive engagement. Alternatively, you can send healthy snacks or other food and drink options to your virtual attendees prior to the event.
Meetings are a part of life, but great meetings can change lives. Whether virtual, hybrid, or in-person, we design experiences that matter. We have the expertise, technology knowhow, and supplier network to create memorable meetings and events for your company, your attendees, and your brand. We work with you to understand your meeting or event goals and help you build attendee engagement into your plan, recommending approaches to maintain your attendees' focus throughout the experience. Read more about our approach.
As we transition from a fully virtual world to meeting in person again, meetings professionals are faced with yet another challenge. According to our 2021 Global Meetings and Events Forecast, more than a third of meetings and events this year are expected to be in a hybrid format – where some attendees join in-person and others join virtually.­­­­­­­­­ While the hybrid format is a practical way to accommodate varying attendee preferences and travel restrictions, it is inherently more complex to plan and execute than a virtual- or in-person-only meeting.
As Ariana Reed, senior manager of business strategy at American Express Meetings & Events, explains: "Hybrid meetings and events have been discussed within strategic meetings management programs for 8-10 years, but until recently, they haven't been seriously implemented. To make a meeting or event truly hybrid, two events must be planned and integrated in parallel, the in-person event and the virtual event."
Here are our top considerations for planning hybrid meetings and events.
1. Get In Your Attendees' Heads
When you know who will be attending your meeting or event, it's easier to make informed decisions every step of the way. Include audience engagement in the initial planning process. Consider the varying personalities or attendee personas joining your meeting or event and develop engagement plans with them in mind. Take into account how your audience will best engage, whether that's through video, chat, an event app, polls, or direct messages. No time to identify your own personas? You can use or adapt our in-person attendee personas or virtual attendee personas.
2. Define Your Format
There are different ways to successfully execute a hybrid meeting or event. Planners must consider their audience and the goal of the experience to decide which scenario to choose. Hybrid and hybrid multi-hub events are two possible formats. In the hybrid model, speakers present from a virtual or in-person location, and audiences can attend virtually or in person. In a hybrid multi-hub event, attendees gather face-to-face in geographically dispersed venues that are connected by technology. Audiences can also attend virtually.
3. Evaluate Technology Alongside the Venue
No matter the format of your hybrid meeting, robust technology and a venue that can support the technology are needed to provide seamless attendee and presenter experiences. As Michael Balyasny, founder and CEO at Attendify, explains, "It's imperative that you use technology that's robust enough to truly act as the connective tissue between virtual and in-person audiences." Furthermore, event spaces need to have enough Wi-Fi bandwidth or hardwired connection, great audiovisual quality, and reskilled staff as a foundation to support this new technology and enable a hybrid experience.
Hoteliers and other suppliers are improving their technology to run the virtual side of a hybrid meeting or event and implementing new safety measures to support the in-person experience. For example, Hilton recently announced its EventReady Hybrid Solutions program where its participating hotels will be required to have a minimum amount of incremental and available IT bandwidth above the hotel's average circuit-use level.
One unique approach to elevate the standard hybrid meeting is to use virtual reality. Planners can create a virtual meeting hall or send attendees a virtual reality headset to augment the remote experience. There's also an opportunity to create virtual chat environments based on algorithms for one-to-one discussions on a specific topic to replace face-to-face networking. Be sure to have a virtual concierge or help desk for attendees' technical issues.
4. Provide Assurances for In-person Attendees
Many hotels are going above and beyond to help their guests and meeting attendees feel safe on their properties. Nearly every hotel has implemented enhanced hygiene, disinfection, and even customer service protocols. For example, Hilton's EventReady with CleanStay program is a meetings-specific initiative that builds on the CleanStay hotel program it created in collaboration with Lysol maker RB and the Mayo Clinic. Even more impressive is the growing list of hotel companies that are taking great safety and health measures to reassure guests, such as on-site testing and free medical coverage. Wynn Resorts is even in the process of building an on-site COVID-19 testing lab for its Wynn Las Vegas
5. Supercharge the Meeting Design
Map out the entire attendee lifecycle for both in-person and virtual attendees – from registration through post-event outreach. Be thoughtful of each element attendees will interact with and look for opportunities to engage each audience as well as to bridge the experiences. Group activities with audience participation such as group activities and a live Q&A present good opportunities to connect the two audiences.
6. Incorporate Self-care and Mindfulness
Making attendees feel confident is more than physical safety and well-being, it's mental too. Opportunities for self-care should be incorporated into meeting design and delivery. Planners can expand meetings and events to include more mindfulness practices and prepare for attendees with different preferences. For virtual audiences, it's especially important to keep sessions as concise as possible. The meeting or event's content and objectives will help determine the duration.
7. Be Meticulous With Your Attendee Communications
Now more than ever, in-person attendees thirst for information about what they can expect and how they can prepare for their travels and meetings. Your communications should be detailed and provide instructions on the meeting's safety protocols, such as mask-wearing and social distancing as well as what to do in the event of COVID-19 symptoms or a positive test result.
8. Budget for More
While hybrid events do typically cost less than an in-person event – because of reduced food and beverage and travel spend – they often cost more than people think. Budget categories must shift to accommodate both in-person and virtual components of hybrid events, especially with the introduction of higher-end production, facilitation, and technology. Planners are using this time to evaluate their suppliers to help ensure they can deliver the virtual experience required by their hybrid meeting or event. Negotiate with vendors during this downtime to get the best functionality afforded.
 The Future of Hybrid Meetings
We'll see a restoration of in-person events through an enhanced hybrid model. We are already helping many clients with their hybrid meetings and events and even planning our own. Most notably, our marquee employee and supplier event INTER[action] will be delivered in a hybrid multi-hub format this year with in-person hubs in Atlantic City, New Jersey, and Seville, Spain. Learn more details about that event here.