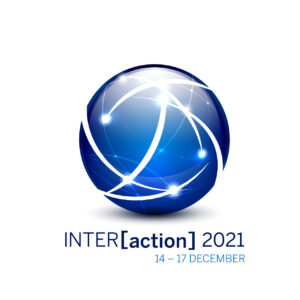 As we navigate through this environment, we continue to embrace new opportunities to create engaging experiences that help drive results for our clients. Our supplier events are no different. We are excited to announce that we are combining both INTER[action] and HorizON, our employee meeting and supplier showcase events, and creating INTER[action] 2021 as a global, multi-hub hybrid experience to take place December 14 to 17, 2021.
The strength of our Meetings & Events organization is based on the relationships and personal connections we have with our clients, partners, and suppliers. Our supplier events present a great opportunity for us to build and strengthen those relationships through meaningful discussions and collaboration to design more creative, efficient, and value-generating experiences for our clients.
INTER[action] Background
INTER[action], which has been based in North America, brings together the global team from American Express Meetings & Events and our suppliers for three days of meetings, networking, and celebrations. HorizON, on the other hand, is our European event focused on a European audience with a similar event program. Both events are well known in the industry as highly qualified opportunities to meet with our consultative meeting professionals.
Last year, we quickly pivoted INTER[action] 2020, our ninth annual global employee meeting and supplier event, to a two-day virtual program (with some in-person components), bringing together over 750 employees from 26 countries and 200+ supplier attendees from 65 organizations over nine time zones. Here's a video of the behind-the-scenes experience.
With deep expertise in creating engaging event experiences, no matter the format, Amex INTER[action] 2021 delivered a productive and valuable event for all with suppliers indicating that this was the best virtual supplier event they had attended to date with a strong networking element – something they had deeply missed out on throughout the year!
Kyle Mabry, VP Global Sales at American Airlines, comments: "What a great opportunity for our team to network during Inter[action] with more than 500 virtual meetings over two days! We could not be more pleased with the event, which took place during one of the most challenging years in our industry. Our thanks to the entire American Express Meetings & Events team for an amazing job. You continue to raise the bar!"
INTER[action] 2021 Event Format
Over the past year, we have quickly upskilled our team and pivoted our focus to virtual/hybrid formats.  As the industry continues to rebound, one thing is for certain: hybrid meetings are here to stay.  It is important, therefore, as a leader in the industry, that we create a transformational and innovative INTER[action] experience for our suppliers in 2021.
INTER[action] 2021, our newly imagined event, will include an Americas hub (in Atlantic City, NJ), European hub (in Seville, Spain), and virtual presence, with increased participation from Asia Pacific. This will provide greater opportunities to build and elevate relationships across all regions to optimize the value and experience for both our suppliers and employees.
The team continues to develop an event program that will create both in-person and live-stream experiences focused on engagement, creativity, and networking across all regions. Suppliers who are interested in participating in either Atlantic City, Seville, or virtually should contact us at [email protected] for more details.
We believe in the value of face-to-face meetings and are ready to meet! Through our expertise, our technology innovation, and our strong supplier network, we are excited to lead the way into this new frontier and help our clients safely return to in-person meetings and events.